Go Back
Capturing Data from Forms
January 29, 2018
Enabling forms tracking
In order to start tracking data from forms, you have to enable it by adding a Audience Manager tag in the Tag Manager:
Go to Tag Manager "Tags" section
Create a new tag
From the list of tag types, select: "Piwik PRO Data Manager"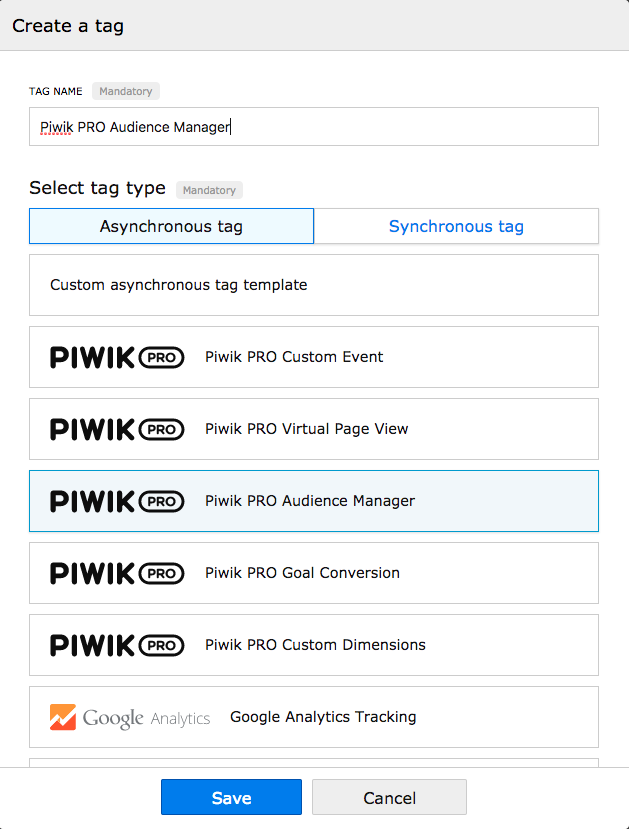 Click OK and add 'All Page Views' trigger.
Save and publish the changes.
Forms tracking behavior
Once the tag is published, Audience Manager will be tracking all the forms that are on the website. Important rules and behavior of form tracking:
Data is saved to Audience Manager only when the form is submitted
Password inputs are not saved
Credit card data is not saved – we're doing our best to guess that detected form collects credit card information and ignore it but in rare cases when the form is of a custom setup, our patterns could be mismatched and credit card data will be captured. It's recommended to test that kind of forms after enabling forms tracking to make sure that it's ignored.
Data from forms is saved as custom attributes in the profile. The name of an attribute is taken from the name of the input field of the form.
I.e. if the form has following input fields with names defined in HTML attributes: name, gender, email_address, they will be saved in the profile under attributes with exactly the same names.
Saving email as one of the profile IDs – Audience Manager tests form values against patterns matching the email address. In case there is a match, regardless of what was the name of the input field the email address will be saved as one of profile IDs under email attribute. Based on the example form described in the above point there will be 2 attributes saved:
email – special attribute maintained by Audience Manager as one of profile IDs
email_address – attribute saved directly from the submitted form
If the profile already exists an attribute with a given name, it's replaced by the latest value sent to Audience Manager.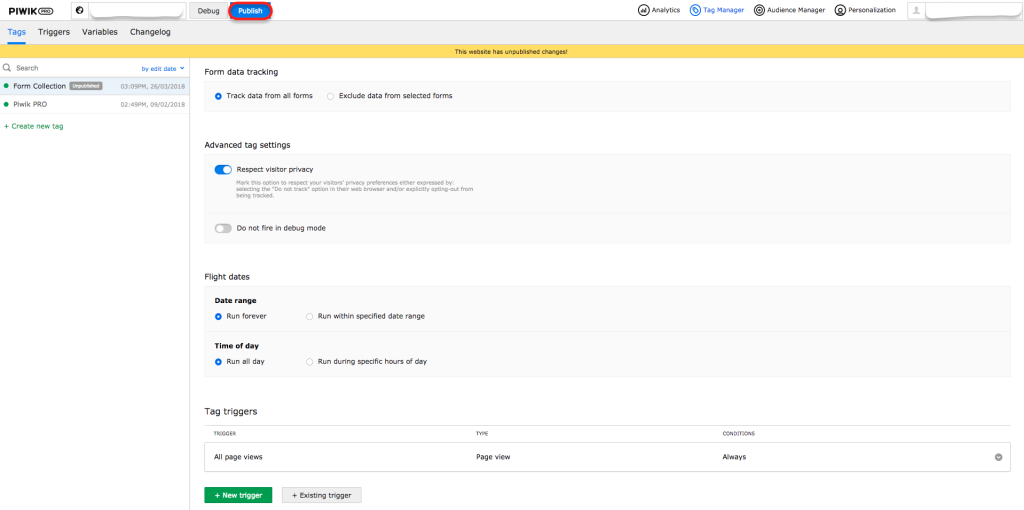 It is also possible to manually exclude entire form or only particular form inputs from tracking. This might be useful if you collect some sensitive data which you don't want to be stored in Audience Manager. To set it up, go to the tag configuration in Tag Manager:
Go to tag which you created for enabling forms tracking
Select "Exclude data from selected forms"
Enter form ID (from id attribute in HTML)
If you want to block entire form save this configuration
If you want to block only one or few input fields from the form, select "Exclude only specific fields" and provide fields names (from name attribute in HTML element)
You can add as many forms or fields as you need.