Go Back
Piwik PRO Audience Manager
August 7, 2018
Audience Manager allows you to collect visitors' data from different sources: Analytics data, e.g. generic visitor data (location, browser, device, OS etc.) or visitors' behaviour on a website (Custom Events, Goals conversion, e-commerce data etc.), forms and CSV files. Basing on those data, you can create and use Audiences in your marketing and advertising campaigns.
Audience Manager automatically collects data from Analytics module, but if you want to start gathering data from forms on a website you're already tracking with Piwik PRO Analytics, you need to activate a new additional Audience Manager tag. In order to do that, click on "Create a new tag" in Tag Manager and select Piwik PRO Audience Manager from the list of tag types.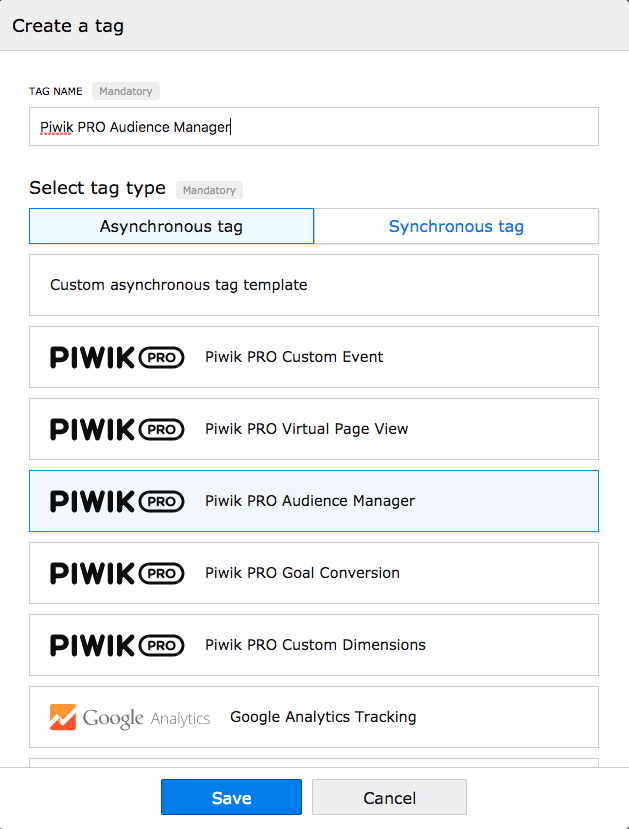 Form data tracking
By default, Audience Manager tag is configured to track entries from all the forms present on your website. You may change this setting by excluding tracking of selected forms or particular fields. In order to do that, you need to specify either the form ID you want to exclude from tracking or only specific fields you don't want to track.

Advanced tag settings
Tag Type – These settings are available for all the tags in Piwik PRO Tag Manager. They apply when the GDPR Compliance setting is turned on for a given website. Take a look how to turn it on here.
After turning it on, you need to pick the tag type. It can be either Does Not Require Consent, Analytics, A/B Testing and Personalization, Conversion Tracking, Marketing Automation, Remarketing, User Feedback or Custom Consent type.
Every tag type except the "Does not require consent" will require Visitor consent to fire.
Respect visitor privacy – by default, this option is marked in order to respect your visitors' privacy preferences either expressed by selecting the "Do not track" option in their web browser and/or explicitly opting-out from being tracked. You may change it according to your preferences.
Do not fire in the Debug Mode – once this is ticked, the tag will not be fired in the debug mode. Why tick this? Sometimes you may have tags that are connected with some display CPC campaigns and you simply do not want to waste money when you're doing some testing.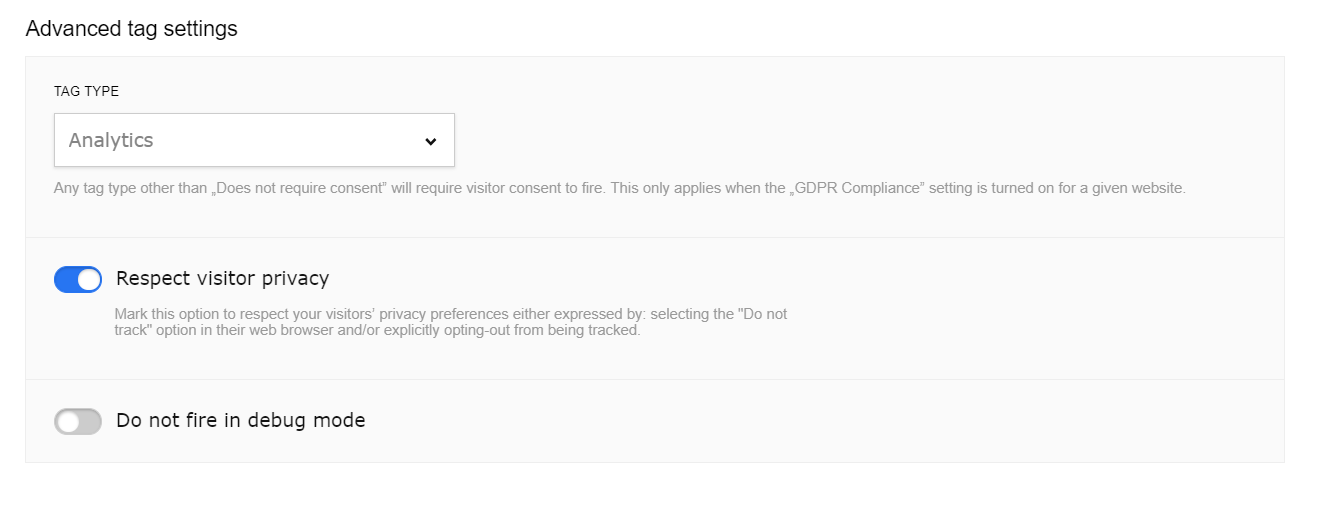 Flight dates
You can schedule when your tag will go live. For Audience Manager, the default settings "run forever" and "run all day" are the best, but you can change them according to your preferences.

Tag Triggers
To fire your tag, you need to associate it with the appropriate trigger. By standard, you can use All page views trigger, which is already defined and used for regular Analytics tracking. Learn more about the triggers here.

After you have your Audience Manager tag properly configured, make sure to save it and then just hit the publish button in order to make it live.
Once you set up your Audience Manager tag, you can check that it works, for example, by filling out a form on your website. After the form is submitted click on "Profile browsers" option in Audience Manager menu. Here you can see your profile with all the data you filled out in the selected form. Now you can create an Audience based on those profile attributes. Find more about forms tracking behaviour here.