Meta sites help you see data from a few sites or apps in a single report or on a single dashboard. You still have your sites or apps as separate entities. You track them with a unique tracking code. Meta sites are just a way to combine collected data and analyze them together.
A good example can be when we have a product site clearbank.com and a blog blog.clearbank.com. We collect data for each site separately because they have different goals and audiences. But if we want to see combined data from both of them, we can create a meta site and go through reports seeing all data.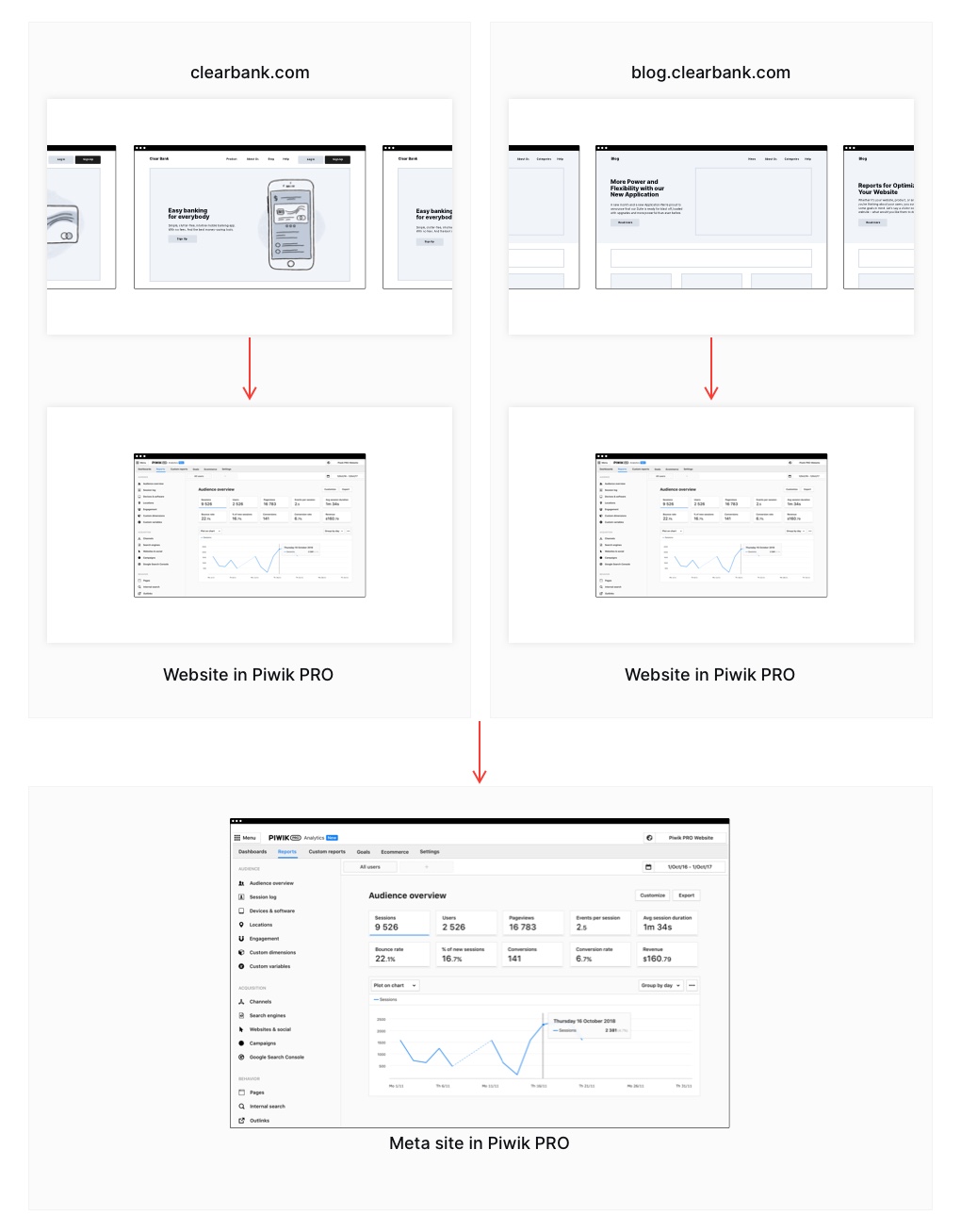 In this article, we'll explain to you how to set up and use meta sites.
Before you start
Before you begin working with meta sites, here are some things to know:
If you want to share the meta site with your teammates, you need to grant permissions to the user or user group for each meta site.
Meta sites don't track the visitor across domains or subdomains and the visitor who moves from one domain to another domain is counted separately for each website.
If you want to see goals and custom dimensions in meta sites, we'd need to help you with customized setup.
You can create a meta site only when you have an owner account level.
Create a meta site
To create a meta site, follow these steps:
Go to Menu > Administration.
Navigate to Meta sites.
Click Add new meta site.
Name the meta site.
Click Add website to meta site.


From the website list, pick websites that you want to connect and move them to the right column.


Click OK.
If your websites use different time zones and currency, adjust it for the meta site. Decide on one time zone and currency, and data for both websites will show according to that setup. Piwik PRO will not calculate the currency, it'll simply change one to another, for example, 10 USD to 10 EUR.


In Integrations, display or hide Ecommerce reports and SharePoint reports in Analytics for meta sites. 


Navigate to Permissions, and grant permissions for users or user groups.
View reports for a meta site
Once the meta site is ready, you can start exploring reports for connected websites.
To view reports for a meta site, follow these steps:
Go to Menu > Analytics.
Navigate to Dashboards, Reports or Custom reports.
In the top-right corner, click the website picker.
Pick the meta site you want to work with.


If you have trouble finding the meta site, use the filter to show only meta sties.


Open the report you want to see, for example, the page report.

Create a custom report to compare websites
When looking at core reports, you will see summed-up data for connected websites. But if you'd like to have a report that shows split data for those websites, you'll need to build a custom report.
To create a custom report comparing websites, follow these steps:
Go to Menu > Analytics.
Navigate to Custom reports.
Click Add new report.
Choose the report type, for example, a flat table.
Name the report.
In Visibility, set: Author or All users. The All users option lets you share this model with other teammates.
On the right, find the Website name dimension.


Drag and drop the element from the ride-hand menu to the left-hand drop point.
Add dimensions and metrics you want to see in the report.
Optionally, add a filter for the report.
When you're done, click Create report.
View the report.