Go Back
Data subject requests (admin panel)
April 9, 2018
Each data subject request (data erasure, data rectification and data access and portability) is recorded and can be reviewed by the admin in the Piwik PRO Consent Manager under "Data subject requests":
Admins can review each request and change its processing status. You should process data subject requests outside of Piwik PRO as it may involve: additional data subject identification, validating that the request is reasonable, fetching data from other sources, etc.
The primary goal of the "Data subject requests" section is to gather the time and date of any request submission. It also allows for tracking of the progress and status of data subject requests to make sure all are processed in a timely manner.

1. Log in to your Piwik Pro Marketing Suite application and go to Consent Manager section – click "Consent Manager" link in top bar menu.
2. Choose proper website from the drop-down menu.
3. Click on "Data subject requests" option in Consent Manager menu.
4. Click on the chosen item to view visitor's requests history:
– data erasure
– data rectification
– data access and portability
– consents updates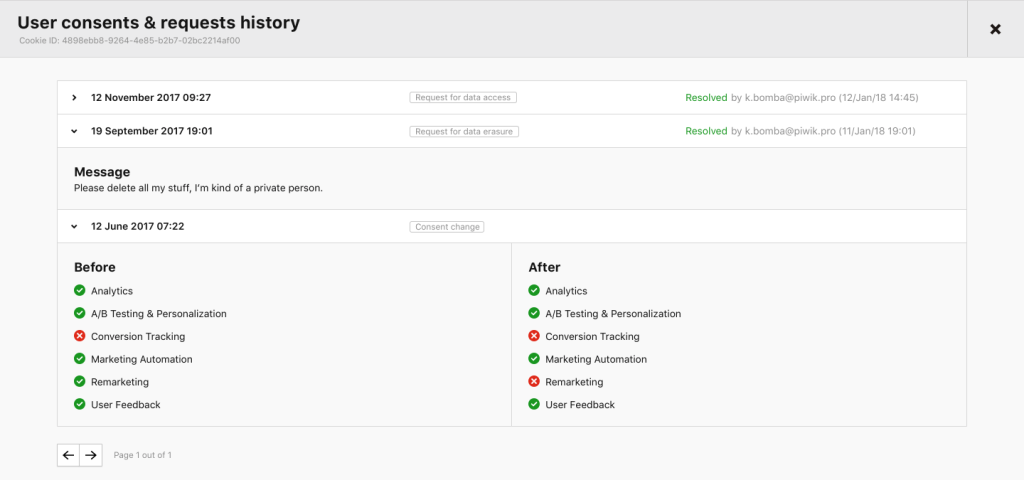 5. On "Data subject requests" list you can update each request status:
– to do
– in progress
– resolved.

Admins can view the history of any visitor's consent status and data subject requests with timestamps for each.