Ecommerce reports display data that is gathered for your online store. However, the data collection process is not automatic; it requires you to set it up using dedicated tags or JavaScript methods. Once you've completed the setup, the ecommerce reports will provide you with valuable information about your online shoppers and their behavior.
In this article, we'll show you how to turn on ecommerce reports and what data you'll find in them.
Turn on ecommerce reports
Ecommerce reports aren't visible by default. You need to turn them on to view your ecommerce data.
To turn on ecommerce reports, follow these steps:
Go to Menu > Administration.
Select the site you want to work with.
Navigate to Reports.
Turn on  Show ecommerce reports.


All done! Now you'll see a dedicated section for ecommerce in Menu > Analytics > Ecommerce. This is where you'll find reports specifically related to your online sales. Just keep in mind that these reports will start filling up with data once you've set up tracking for each ecommerce element.

Ecommerce reports
To view ecommerce reports, follow these steps:
Go to Menu > Analytics.
Navigate to Ecommerce.
Ecommerce reports are classified into three categories: acquisition, audience and behavior. Acquisition reports track traffic sources and conversion drivers. Audience reports analyze demographics and behaviors, while behavior reports focus on shopper actions and interactions. Let's delve into each report and examine it closely.
Acquisition reports
Acquisition reports offer valuable information about the sources and channels that bring traffic to your online store and result in conversions. This data helps you improve your marketing strategy and attract more potential buyers.
Data in this section is grouped into:
Channels: This section provides insights into the various sources and channels that drive traffic to your online store.
Landing pages: It analyzes the performance of different landing pages, including conversion rates and engagement metrics.
Campaigns: This section evaluates the effectiveness of marketing campaigns in terms of click-through rates, conversion rates and ROI.
Attribution: It helps understand the impact and contribution of each marketing channel or campaign in driving conversions.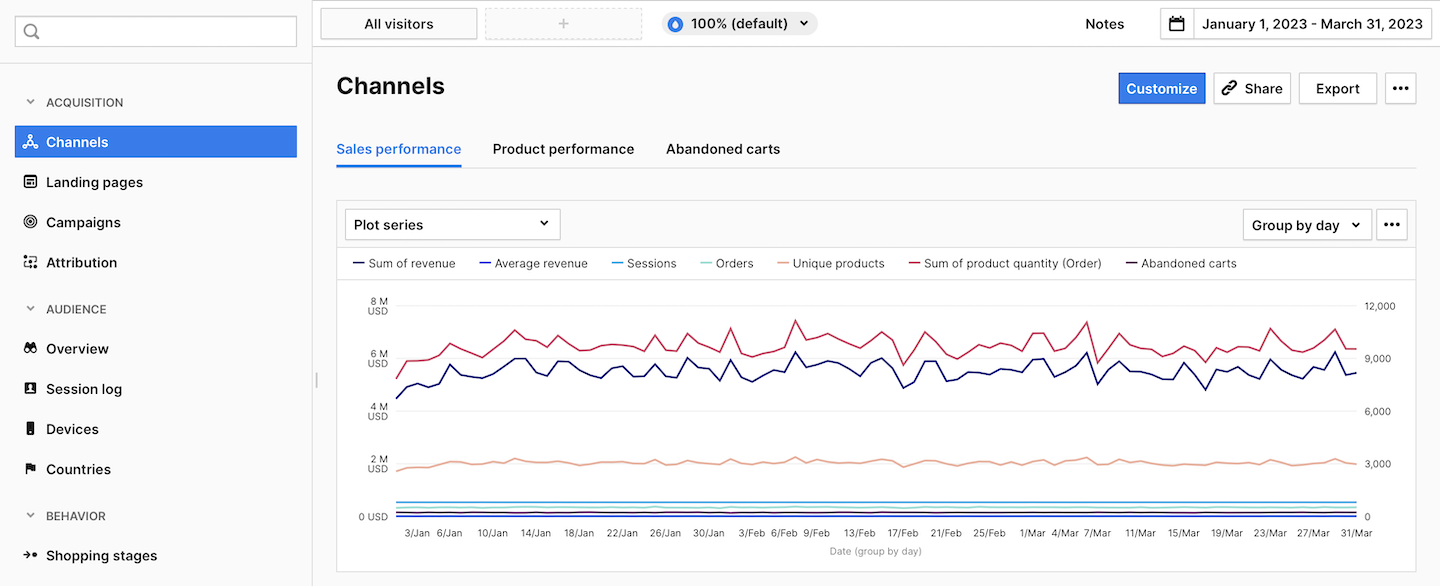 Audience reports
Audience reports focus on understanding the demographics, interests and behaviors of shoppers, allowing you to tailor your offerings to specific target groups.
Data in this section is grouped into:
Overview: This section provides a summary of audience metrics, including the total number of orders, overall revenue generated, and the value of abandoned carts.
Session log: It offers detailed information about individual shopper sessions, including duration, page views and actions taken.
Devices: This section categorizes the audience based on the devices they use to access your online store.
Countries: It provides insights into the geographic distribution of the audience, helping you understand your international reach.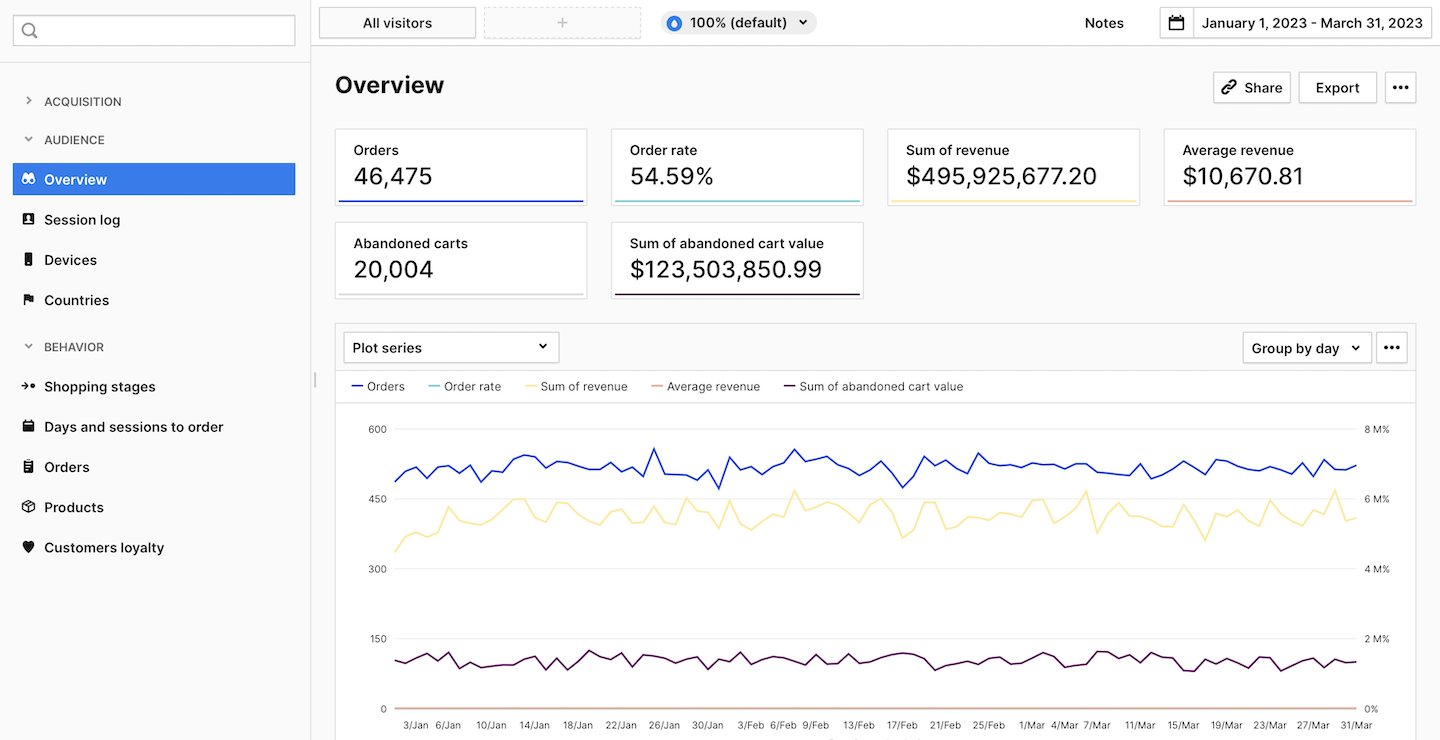 Behavior reports
Behavior reports delve into the actions and interactions of shoppers in your online store, shedding light on shopping stages, product preferences and loyalty to help you improve the user experience and optimize conversion rates.
Data in this section is grouped into:
Shopping stages: This section analyzes shopper behavior throughout the shopping process, identifying potential areas for improvement.
Days and Sessions to Order: It tracks the time and engagement required for customers to complete a purchase, providing insights for optimizing the conversion journey.
Orders: This section examines individual order data, including revenue, tax, shipping, discounts and product quantity to identify trends in customer purchasing behavior.
Products: It offers insights into the performance of specific products, such as orders, revenue, click-to-detail rate and order-to-detail rate, guiding product optimization and marketing strategies.
Customer loyalty: This section measures metrics such as days since last order, order value, and product quantity to identify loyal customers and develop strategies to enhance their long-term value.